untitled, performance in Sigmund Freud`s former backyard, Berggasse 19, Vienna



NEWS


Performance-Abend
Diskurs- und Performanceprogramm in Zusammenarbeit mit der VBKÖ
im mumok -
museum moderner kunst stiftung ludwig wien
Mit Myassa Kraitt, Hyeji Nam & mirabella paidamwoyo* dziruni, Sööt/Zeyringer und die Kollaboration zwischen Larissa Kopp & Florian Aschka mit Alexandru Cosarca, Julischka Stengele, Daniel Rajcsanyi, Hyo Lee.
Ein Abend mit Künstler*innen, die die performative Kraft von Kollektivität und Fürsorge erkunden und dabei ein neues Vokabular alternativer Denk- und Handlungsweisen schaffen.Die Veranstaltung ist kostenlos und für alle frei zugänglich.
https://www.mumok.at/de/events/performance-abend
Das Projekt "My Dirty Old God*esses" wurde gefördert von:


>Wiener Freiheit<

Artists: Annemarie Arzberger, Aschka, Florian & Kopp, Larissa, Wilhelm Binder, Bernhard Cella, Spencer Chalk-Levy, Alexandru Cosarca, Ina Aloisa Ebenberger, Andreas Fogarasi, Fritz Hortig, Ferhat Ilhan, Aklima Iqbal, Anna Kohlweis, Anna Meyer, Danielle Pamp, Margot Pilz, Mima Schwahn
Opening Reception: Friday, September 23rd, 7:00 pm
September 24th – November 5th, 2022
Galerie3, Alter Platz 25, 9020 Klagenfurt am Wörthersee, Austria



QHM - Queering the Museum, Kunsthistorisches Museum Wien
09. 06. 2022 - 30. 06. 2022
"Queering the KHM bedeutet, einen anderen, diversen, vor allem nicht heteronormativen Blick auf die Kunstwerke des Kunsthistorischen Museums zu werfen, auf die Geschichte des Museums, dessen Sammlungen und Strukturen. Es bedeutet, eine tradierte Ordnung und das 'Betriebssystem' Kunst zu hinterfragen, inklusive der handelnden Personen." - Elisabeth Priedl

https://diversity.khm.at/larissa-kopp-und-florian-aschka/


Das Projekt "My Dirty Old God*esses" wurde gefördert von: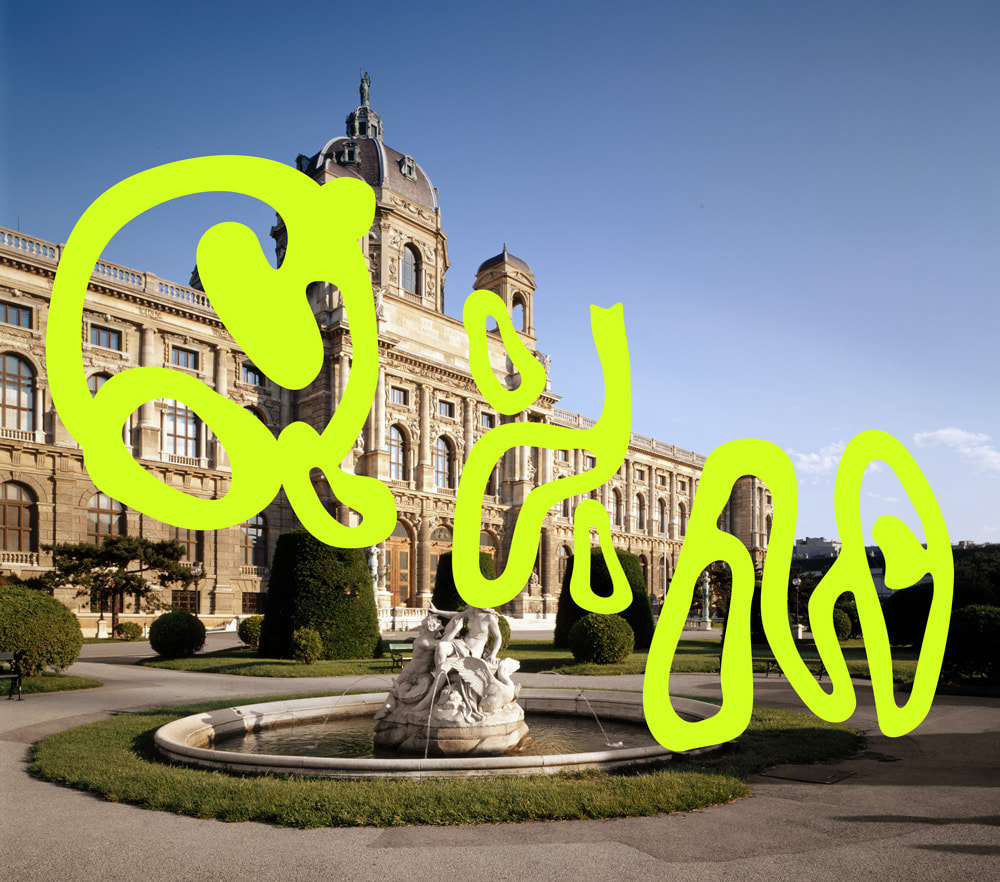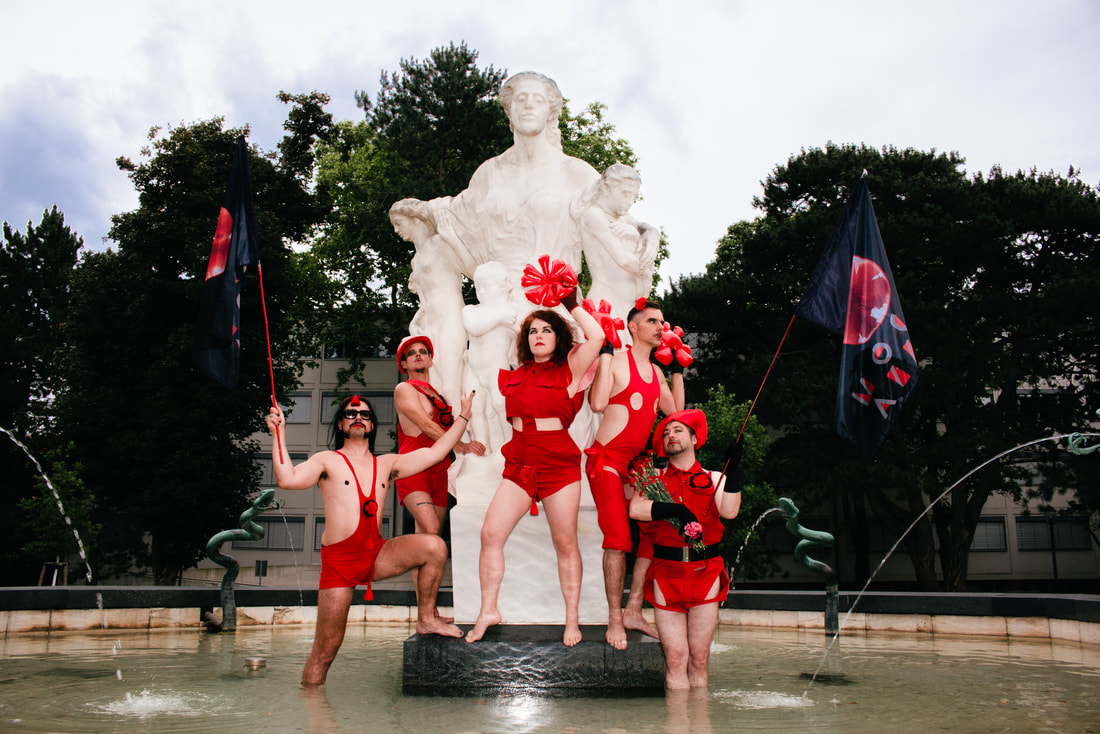 Foto: Sarah Hauber

SODOM VIENNA

im Rahmen der Wienwoche
Sa, 12.9., 15:00–16:00 Viktor-Adler-Markt, 1100 Wien
So, 20.9., 14:00–16:00 Anti-rassistische, queer-feministische Schwimmaktion Wiener Ruderclub Pirat, Alte Donau, Dampfschiffhaufen 65, 1220 Wien Im Rahmen von: CLOSING WIENWOCHE 2020





http://www.wienwoche.org/de/1087/sodom_vienna




Rauschende Prozessionen und befreiende Rituale im Spirit der 1920er: SODOM VIENNA, die post-utopische, solidarische und lustvolle Stadt, präsentiert im Rahmen der WIENWOCHE 2020 antirassistische und queer-feministische Manifestationen. Das Rote Wien der 1920er Jahre stand für eine Utopie, die Wohnbaupolitik, Frauenemanzipation, Bildungs- und Gesundheitspolitik revolutionierte. In Anlehnung an den Film "Sodom und Gomorrha", der 1922 unter Einbeziehung tausender Statist*innen im Arbeiterbezirk Favoriten gedreht wurde, lädt SODOM VIENNA dazu ein, gemeinsam ein lustvolles Queering unserer Stadt zu feiern. Mit Kollektiven wie Omas gegen Rechts, Têkoşîn, Chor Hor 29. Novembar und Afro Rainbow Austria nehmen wir dabei im Vorfeld der Wiener Wahlen im Oktober 2020 den politisch umkämpften Viktor-Adler-Markt ein: Liebend gerne im Kampf gegen Rassismus, Faschismus und Sexismus. Und wir gehen baden: Zum Abschluss der WIENWOCHE am 20. September steht die schwimmende Manifestation auf den Gewässern der Alten Donau ganz im Zeichen von Body Positivity, Leisure und No-Work-Time. Ho-ruck nach Liebe links!
100 Years Red Vienna – Red Pinks burn for Love and Solidarity!




W*HOLE AGAIN - Performance im Künstlerhaus Wien am 6. März 2020

Florian Aschka, Alexandru Cosarca, Georg Klüver-Pfandtner und Larissa Kopp

Mit: Julia Fuchs, LA GEORGETTA, Veza Maria Fernandez Wenger, Susie Flowers, Denise Palmieri, Katrinka Kitschovsky, La Mireille Millieu, Teresa Batagra, Daniel Massow, Mathea Magdalena, Vanja Jovanovic, Magdalena Plöchl und dem Subchor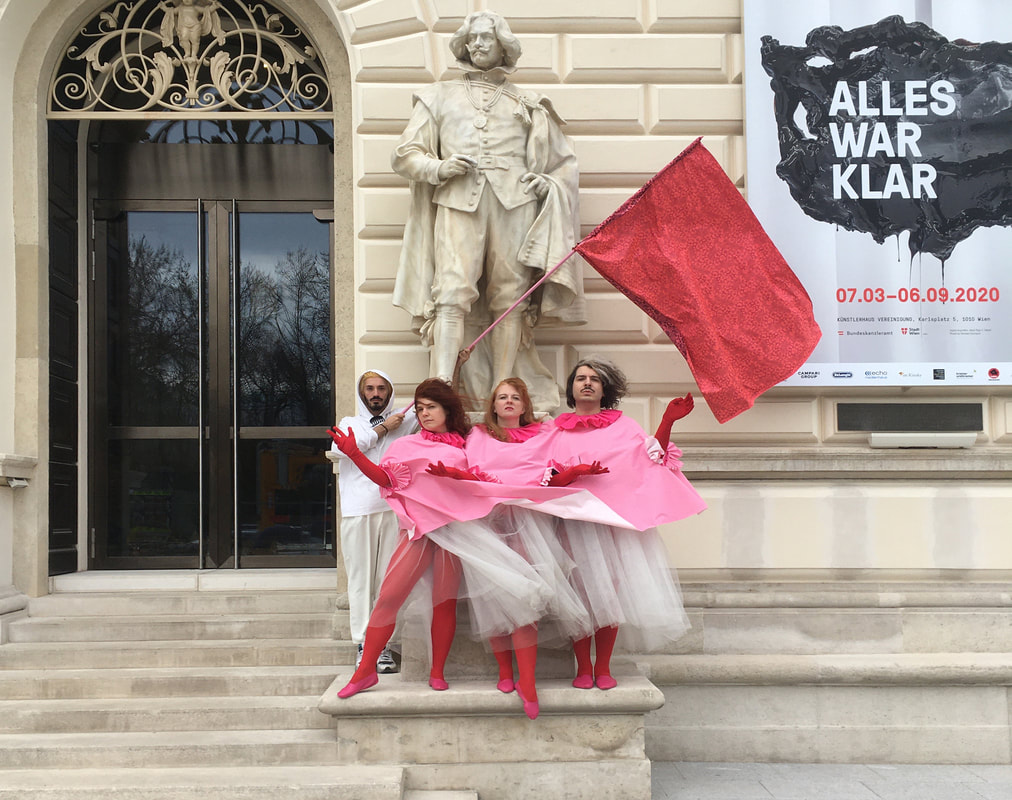 within the exhibition:
ALLES WAR KLAR
ReOpening Künstlerhaus Wien
artists:
Anna Artaker, Thomas Baldischwyler (with works by Willi Baumeister, Falm, Haus-Rucker-Co, Karl Hofer, Thomas Jeppe, Gustav Klimt, Martin Kippenberger, Elke Silvia Krystufek, Teresa Feodorowna Ries, Didi Sattmann, Hanns Wagula), Cäcilia Brown, Natalia Domínguez Rangel, Michaela Eichwald, Agata Ingarden,
Florian Aschka, Alexandru Cosarca, Georg Klüver-Pfandtner, Larissa Kopp, Adam Kraft, Max Schaffer, Toni Schmale, Wiener Perspektive / AG SPACE
https://www.k-haus.at/de/kuenstlerhaus/aktuell/ausstellung/375/alles-war-klar.html



Beste Gäste
20 Jahre KREIS Galerie

artists:
Michaela Biet – Aja von Loeper, Meide Büdel – Peter Engel, Barbara Engelhard – Kasia Prusik-Lutz, Jan Gemeinhardt – Jasmin Schmidt, Christoph Gerling – Paolo Volta, Hubertus Heß – Fumiko Takai, Brigitta, Heyduck – Elisabeth Krampe, Caspar Hüter – Urban Hüter, Udo Kaller – Till Augustin, Peter Kampehl – Karin Blum, Thomas May – Hiroshi Egami, Ortwin Michl – Paul Sebastian Feichter, Günter Paule – David Linley, Christian Rösner – Johannes Felder, Pirko Julia Schröder – Larissa Kopp / Florian Aschka, Peter Thiele – Hubert Baumann, Wilhelm Uhlig – Claudia Endres, Franz Weidinger – Cesare Mirabella, Achim Weinberg – TETTA, Hjalmar Leander Weiß – David Linley
opening: Wednesday, 11th march 2020 7:30pm
exhibtion: 12th march – 11th april 2020


Mittwoch, 06. November 2019, 19.00
25 Jahre Depot.Nachgefragt:

Subversiv?
2010 wurde im Depot über den in der Kunst oft unreflektiert benutzen Begriff Subversion nach- gedacht. Wie hat sich das Verhältnis von Kunst und Subversion entwickelt? Erfüllt Kunst ihre Aufgabe der Kritik in diesem Sinne? Oder ist der Begriff der Subversion in diesem Kontext gar zu einem Label verkommen, um einer Nachfrage am Kunstmarkt zu entsprechen?

Florian Aschka / Larissa Kopp, Künstler_innen
Thomas Edlinger, Donaufestival
Christian Höller, Kunstkritiker, Die Springerin
und vom Podium 2010 wieder mit dabei:
Oliver Ressler, Künstler
Moderation: Astrid Peterle, Kuratorin

Anschließend kleines Büfett

Depot - Kunst und Diskussion
Breite Gasse 3
1070 Wien
Tel: +43 699 13 53 77 10 depot@depot.or.at
http://www.depot.or.at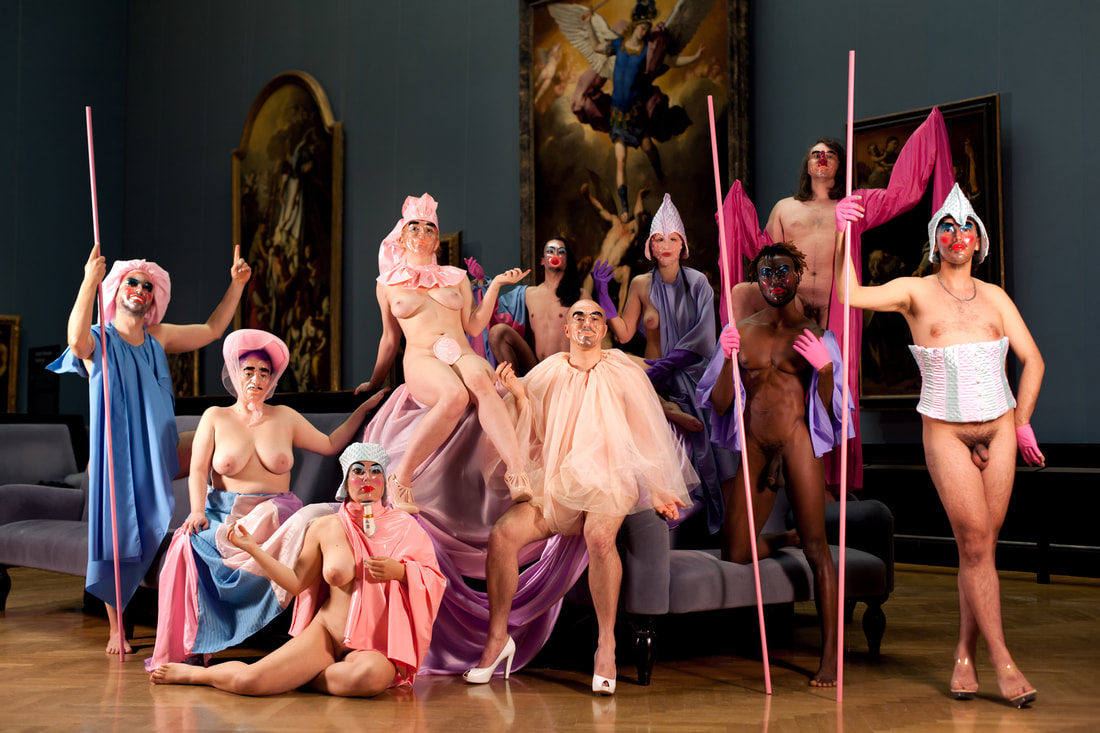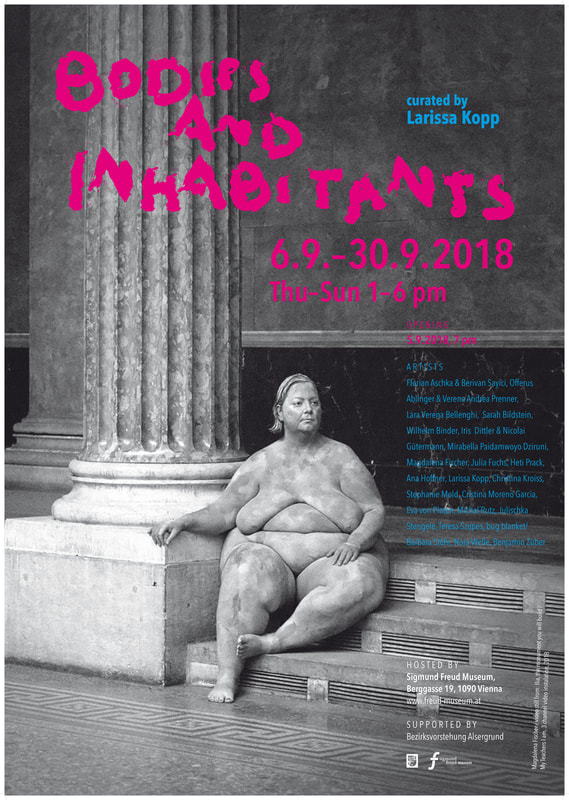 QUEER


opening 15th June 7pm
15th June – 3rd August 201815. Juni – 3. August 2018 Tue – Sat 4pm – 6pm; Thu 4pm – 8pm free entrance
Artists: Florian Aschka / Larissa Kopp; Julia Fuchs; Moritz Gottschalk; Martina Mina / Sabine Schwaighofer; Francis Ruyter; Michal Rutz; Julischka Stengele Kunstforum Montafon
Kronengasse 6,
6780 Schruns,
Austria
http://www.kfm.at/ausstellungen/detail-ausstellungen/article/queer/

Queer Revolutionaries...?
Florian Aschka & Larissa Kopp

Opening: Thursday, 14th of September, 7 pm
Performances by LA GEORGETTA, Berivan Sayici, Hotel Butterfly

15th of September - 12th of October
opening hours:
Tue, Wed, Fri 11 am- 6 pm
Thur 11 am - 8 pm | Sat 11 am - 4 pm
Closed on Mon, Sun and holidays
Free entrance


MUSA Museum Start Gallery Artothek
Felderstraße 6-8,
1010 Vienna, (next to the city hall)
Accessible Entrance

http://www.musa.at/startgalerie/item/3092-florian-aschka-larissa-kopp-queer-revolutionaries


QUEER ENCOUNTERS ‐ VIENNA TRANS L. A.

As part of an exchange project between the CalArts School of Art and students of the Academy of Fine Arts Vienna, the exhibition QUEER ENCOUNTERS ‐ VIENNA TRANS L. A. presents around twenty‐five international artists mainly working in a queer‐feminist, anti‐discriminatory and decolonial context.

Artists Presented
Florian Aschka, Blisssquad, Pedra Costa, Zoe Dewitt, Andi Dvořák, Mirabella Dziruni, Veronika Eberhart, Julia Fuchs, Julia S. Goodman, Moritz Gottschalk, Jessyca R. Hauser, Klitclique, Larissa Kopp, Roberta Lima, Alfred Morina, Rini Mitra, Hyeji Nam, Danielle Pamp, Michal Rutz, Berivan Sayici, Sir Meisi & Kozek Hörlonski, Marianne Vlaschits, Julia Zastava
Curated by Zoe Dewitt

Most of the artists have been studying at the contextual painting class of Ashley Hans Scheirl (experimental filmmaker and painter, artist of documenta14 in Kassel and Athens) which is known for its focus on identity/gender topics and the trans‐aspect in art (as in the transposition between artistic media, the transition between sexual categories, the transgression of borders limiting the exploration of new libidinous economies etc.). The positions united in this exhibition reflect this transitive aspect in various ways: the encounter of different cultural backgrounds with contemporary western subcultures and socio‐political discourses, the shifting of set pieces of myth, folklore, high and low culture, trash and glamour, the exploration of alternate identities as a means of self‐empowerment, the use of the body as a translator of various languages and codes as well as the prima materia of artistic expression from which further alchemical transmutations of desire emanate. Intergalactic matriarchy, queer utopia, decolonisation of the body, LGBT‐activism, postporn, non‐binary club culture and freesytle rap with white‐cube institutional criticism are just a few keywords which describe the artistic field presented in this exhibition. As such QUEER ENCOUNTERS ‐ VIENNA TRANS L. A. covers a variety of artistic fields such as painting, photography, video, installation and performance with a special emphasis on interdisciplinary methods and collaborations between artists
Opening Reception: 28 September 2017, 7 – 9 pm

CALARTS
California Institute of the Arts | School of Art | D300 D301 galleries
24700 McBean Parkway | Valencia | California 91355 supported by the Austrian Cultural Forum New York

http://www.acfny.org/event/queer-encounters-vienna-trans-l-a/


Interview

in KALTBLUT Magazine:

www.kaltblut-magazine.com/queer-revolutionaries-an-interview-with-artists-florian-aschka-larissa-kopp/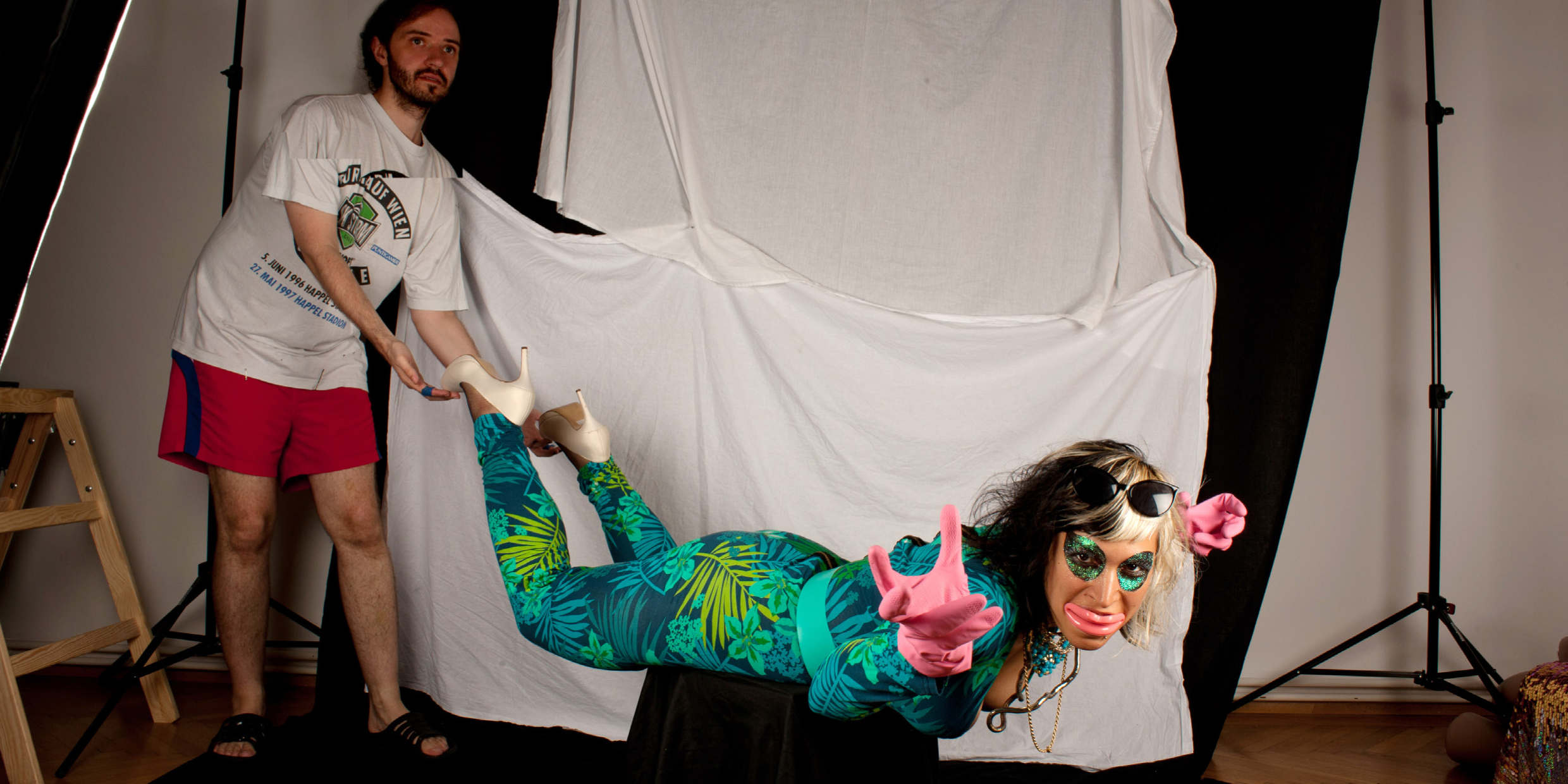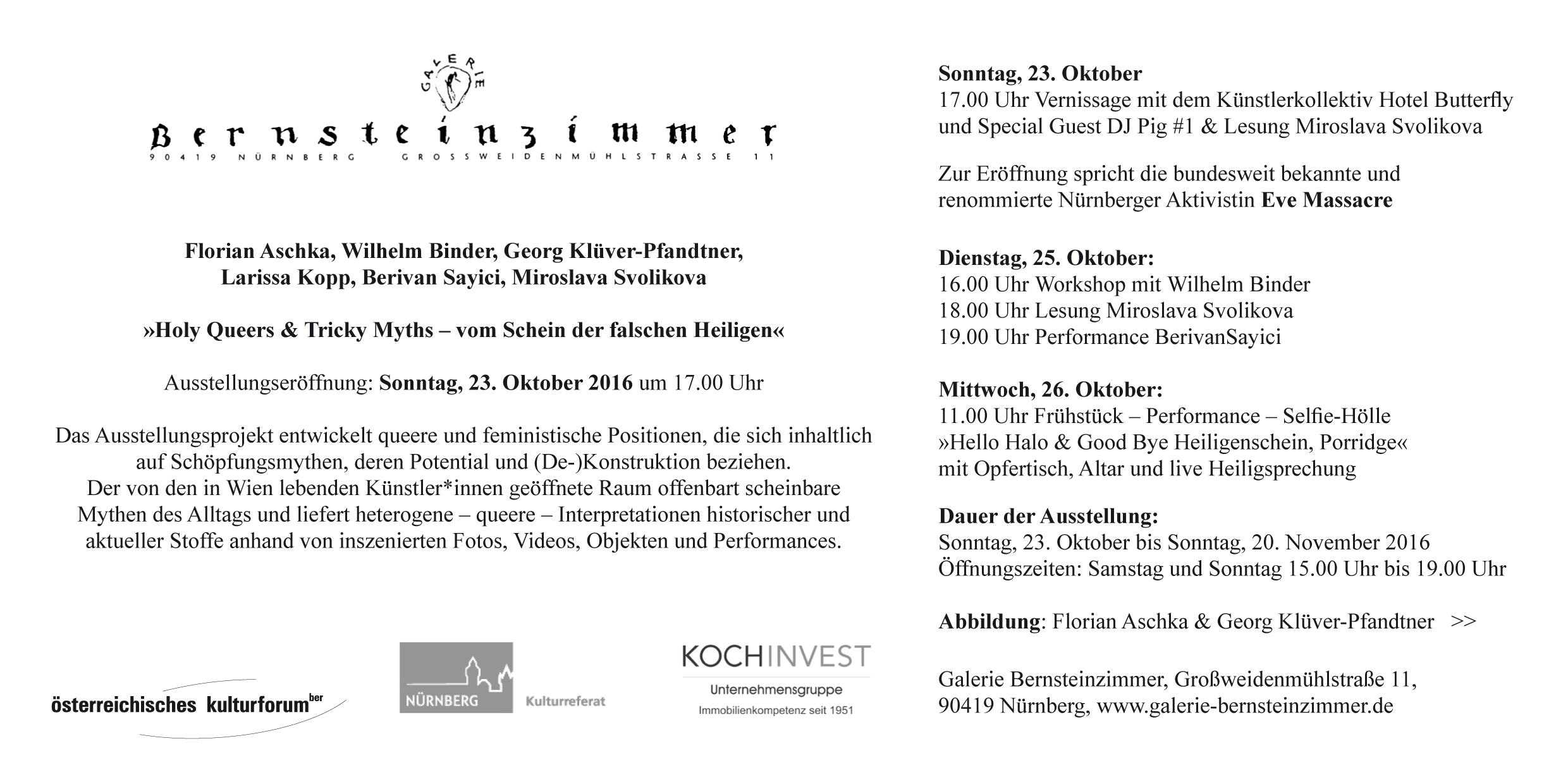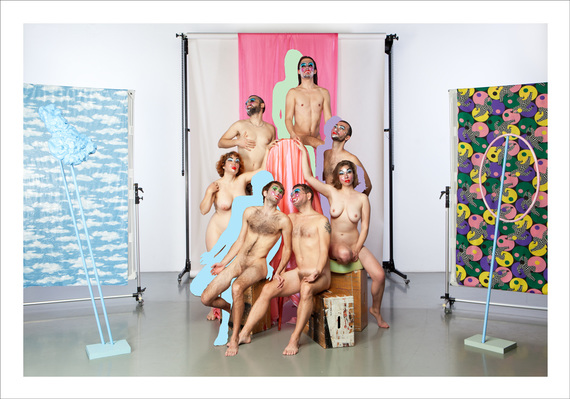 together with HOTEL BUTTERFLY
BALL | Hotel Butterfly |
FlamBOYance - Hotel Butterfly presents Männchen, Machos und Memmen
Friday 1.7.2016 8pm Galerie Michaela Stock, Schleifmühlgasse 18, 1040 Vienna
as part of
DOPUST | DAYS OF OPEN PERFORMANCE VIENNA | MASCULINE ICONS
29.6. - 3.7.2016
WHERE: Galerie Michaela Stock, Schleifmühlgasse 18, 1040 Vienna
Opening party: Wednesday, June 29, 6 pm
With Eyes Aghast: Transmanerist Reactions
XHIBIT, Vienna
OPENING
THURSDAY, 19th NOVEMBER 7:00 p.m. (as part of the Vienna Art Week)
20th November – 10th January 2016
finissage: 9th January 2016, Performance Bash
curators: Moritz Gottschalk, Christian Hetlinger, Roberta Lima, Matteo Patti, Ruby Sircar
artists
:
Christoph Ablinger, Annemarie Arzberger, Florian Aschka, Wilhelm Binder, Amoako Boafo, Roy Fredrick Culbertson III, Luise Deininger, Zoe DeWitt, Veronika Dirnhofer, Albrecht Dürer, Andy Dvorak, Veronika Eberhart, Julia Fuchs, Fanni Futterknecht, Hendrick Goltzius, Moritz Gottschalk, Cornelisz van Haarlem, Lena Rosa Haendle, Hagendorfer, Eva Hettmer, Leon Höllhumer, Luisa Kasalicky, Terese Kasalicky, Jakob Lena Knebl, Larissa Kopp, Maria Legat, Elke Liberda, Roberta Lima, Ahoo Maher, Parastu und Ziba Malousy, Andreas Messinger, Stephanie Misa, Rini Mitra Swarnaly, Soso Phist, Madame Pipistrelle, Heti Hnah Prack, Christoph Rodler, Michal Rutz, Andrea Salzmann, Hans Scheirl, Ruby Sircar, Alexandra Tatar, Patrick Weber, Charles Wilda, Julia Zastava and others
In cooperation with the Paintings Gallery and the Graphic Collection of the Academy of Fine Arts Vienna
The exhibition and performance project With Eyes Aghast: Transmannerist Reactions focuses on contemporary queer mannerisms in a critically playful way. The curatorial team's invitation is aimed at an imaginatively grotesque distortion of the xhibit space and other parts of the Schillerplatz: surprising decorative fine art and architecture forms meet with burlesque and drag formats. Historical mannerism, which marks a rupture in every expression, finds a contemporary mirror in this transdisciplinary project, which pursues what Gustav René Hocke described as "the alchemy of language" in his work Die Welt als Labyrinth (1957, The World as a Labyrinth). Epigrammatically, as it were, the artists' works counter socioeconomic constraints visible in emerging autocratic forms of power with a queer and decolonizing thrust.
The title of the project refers to the mannerist garden Sacro Bosco in Bomarzo where a sphinx welcomes the visitors entering the site with the following words: "Whoever does not wander through this place with raised brows and lips pressed tightly together would not even admire the Seven Wonders of the World." The world of wonders that manifests itself in an overall mannerist concept challenges its vis-à-vis to creatively and actively intervene in the circumstances given and engage in their highest form, artistic expression and understanding.
The garden as a site of the manifestation of – and the debate on – artificiality, the disintegration of existing systems, and the reassessment of given hierarchies will be defined and discussed in a contemporary vein: (trans)mannerism may be understood as absolute empowerment on the basis of breaking away from the prevailing conditions and the creation of a physique of one's own. Flamboyant: being a cyborg and rooted in creole is what the manifesto amounts to.
XHIBIT
Academy of Fine Arts Vienna
Schillerplatz 1
1010 Vienna
Opening hours:
Tue-Sun 10 am- 6 pm
email:
info@akbild.ac.at
tel. +43 -1-58816-1304
http://www.akbild.ac.at
Rapid pulse Performance Festival
4.6. - 14.6. 2015
Defibrillator Gallery, Chicago

PERFORMANCE ART can happen anywhere and for any length of time. RAPID PULSE approaches performance from a visual art perspective. As a potter uses clay, a performance artist uses the body, object, and space to sculpt time-based works of art. At once beautiful or grotesque, meditative or thrilling, solemn or funny, performance art ranges from explorations of the mundane to embodiments of edginess, risk, or pain.

featuring:

MARILYN ARSEM (US). JELILI ATIKU (NIGERIA). ATOM-r (CHICAGO). YOLANDA BENALBA (SPAIN). SARAH BERKELEY (US). JOHN G BOEHME (US|CANADA). MARY COBLE (US|SWEDEN). JOHN COURT (FINLAND). CHUN HUA CATHERINE DONG (CANADA). AYANA EVANS (CHICAGO). VIVIAN CHINASA EZUGHA (NIGERIA|WALES). ADAM GRUBA (POLAND). MIAO JIAXIN (CHINA|US). NATASHA JOZI (PAKISTAN). LARISSA KOPP (GERMANY|AUSTRIA). PARIS LEGAKIS (GREECE|US). SARA MORAWETZ (AUSTRALIA|US). AMITIS MOTEVALLI (IRAN|US). LECHEDEVIRGEN TRIMEGISTO (MEXICO). JULIE POTRATZ (CHICAGO). VICTOR de la ROCQUE (BRAZIL). BERNARDO STUMPF (BRAZIL). MITSU SALMON (CHICAGO). MARCEL SPARMANN (GERMANY). MARYAM TAGHAVI (CHICAGO). MARTINE VIALE (CANADA). WEEKS & WHITFORD (UK). FRANCIS MARION MOSELEY WILSON (US). TORI WRåNES (NORWAY).

http://rapidpulse.org/





Kunsthaus Graz | "Menü 2014. Materialproben" | 15.07.2014, 14-18 und 18 Uhr



15.07.2014
14-18 Uhr: reflecting on carnal beauty - Performance
18 Uhr: Picea Abies. Die produktive Fichte - Präsentation
Im Anschluss: Künstlergespräch mit Markus Jeschaunig (Installation), Larissa Kopp (Performance) und Frenzi Rigling (Fotografie)
Im Rahmen des Projekts "Menü 2014. Materialproben" in Kooperation mit dem Café Luise im Kunsthaus
Café Luise im Kunsthaus, Lendkai 1, 8020 Graz
Information: +43-316/8017-9200

http://www.museum-joanneum.at/kunsthaus-graz/ihr-besuch/veranstaltungen/events/event/15.07.2014/reflecting-on-carnal-beauty